Pastured Pork!
Our pigs are raised outdoors and on pasture! Pigs fill an ecosystem niche on the farm. They are a great way to bring and cycle nutrients on a farm and can utilize land that is not ideal for grazing ruminants including bush and shrub land. Using portable electric fencing and piped water systems we are able to move our pigs around the farm from trees, to bush to pasture.
It is really exciting to see pigs being pigs.
We mill our pig feed on farm and use local barley and oats for their feed.
We not not use:
Sub therapeutic antibiotics
Growth hormones
Medicated feeds
GM feed grains
PASTURED PORK PRICES
**Package prices are based on the actual pounds of packages you receive.
Pastured Pork Packages:
The Whole Pig ~$900
140 lbs of pork
$6.49/lb
includes approximately:
6-8X3-4 lb Pork shoulder roasts, 6X3-4lb Pork hips roasts, 2X3-4 pork loin roast, 20 lbs rib/loin chops (tenderloin in), 20 lbs ground pork, 20 lbs bacon, 8 lbs pork ribs, 6 lbs pork hocks.
A couple of Notes:
* We can do custom cut up on a whole pig.
* You may substitute hip roasts for hams in the any of the packages for the extra cost of curing.
* Do you want sausage with your half or whole pork order? let us know!
The Half Pig ~450.00
70 lbs of pork
$6.99/lb
includes approximately:
4X3-4 lb Pork shoulder roasts, 4X3-4lb Pork hips roasts,1X3-4 lbs loin roast, 12 lbs rib/loin chops (tenderloin in), 10 lbs ground pork, 10 lbs bacon, 5 lbs pork ribs
30 lb Pork Package
~ 210.00
$7.49/lb
includes approximately:
2X3-4lb shoulder roast, 1 X3-4lb Pork hip (fresh ham), 6 lbs rib/loin chops, 5 lbs ground pork, 2 lb ribs 3 lbs bacon
* let us know in the comments box if you prefer a ham instead of a hip roast *
Pork by the cut:
Ground Pork 6.49/lb
Pork Chops (tenderloin in & bone in) 7.49/lb
Pork Hip Roast 6.49/lb
Pork Shoulder Roast 6.49/lb
Pork Loin Roast (Boneless) 8.49/lb
Pork Tenderloin 14.89/lb
Pork Ribs 6.99/lb
Baby Back Ribs 6.99/lb
Bacon (cured) 10.49/lb
Bacon (uncured) 8.99/lb
Pork Belly 8.99/lb
Ham 8.49/lb
Hocks 3.99/lb
cured Hocks 5.99/lb
Breakfast Sausage 8.99/lb
Smoked Farmers Sausage 10.99/lb
Fresh Farmers Sausage 8.99/lb
Herb and Garlic Sausage 8.99/lb
Tuscan Style Sausage 8.99/lb
Southwest Sausage 8.99/lb
Fennel and White Wine Sausage 8.99/lb
Sweet and Spicy Italian Sausage 8.99/lb
Chorizo Sausage 8.99/lb
Blackburn Country Sausage (farm favourite!) 8.99/lb
Liver 4.00/lb
Pork Fat 3.00/lb
Pork Soup Bones 3.99/lb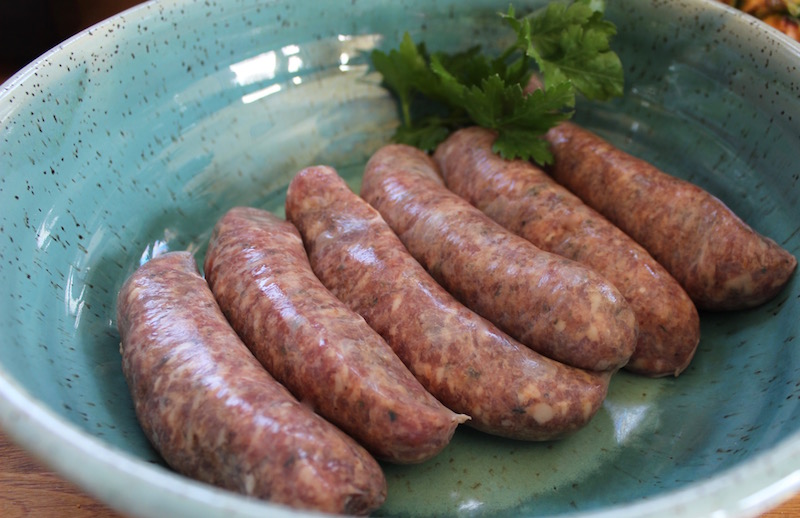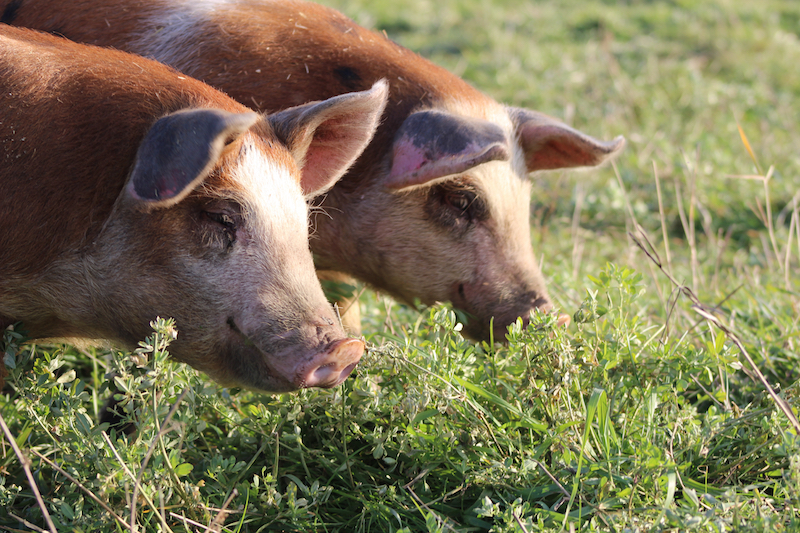 Pastured Pork - Order in Advance for Summer/Fall 2020