Our Mission:
Through the use of ecologically sound grazing and land management practices we are committed to producing the highest quality pasture raised and grassfed meats in Manitoba. We are committed to a community based food distribution model. We strive to sustain a viable family farm operation with respect for the animals and the land we steward and the people we serve.  We want to work to produce and deliver food that is nourishing and wholesome for you and your loved ones.
Luna Field Farm is a pasture (grass)-based livestock farm operated by Wian Prinsloo and Lydia Carpenter. The farm is run on several hundred acres of grazing pasture land in southwestern Manitoba. Through an ecological lens we focus on the health of our livestock, pastures [plants], and soils, recognizing that we are what we eat, from the ground up! We employ planned grazing techniques in a multi-species grazing system with the objective of better land, great food and a healthier community. We feel that growing food, and/or procuring local foods is one way to foster responsible land stewardship and nurture resilient communities. We want to provide you with the highest quality pasture-raised and grass-fed meats and encourage others to consider farming and food production as a viable livelihood.
At Luna Field Farm we offer:
Pasture for Life. Grassfed – Beef
Pasture & Woodlot Raised Pork
Eggs from Pasture raised hens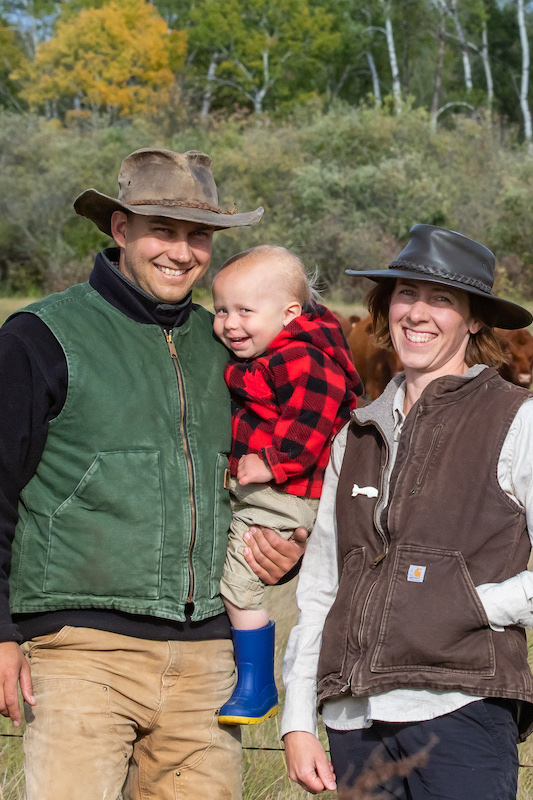 Our Stories
Wian Prinsloo
As long as I can remember I have wanted to farm. I always loved grazing livestock like sheep and cattle. I began farming in 2005 after moving to Canada from Pretoria, South Africa. From the age of 18 I studied during the winter months and farmed on rented land during the summer. Initially I focused on pastured poultry but dreamed of one day ranching full time on a mixed-livestock farm. For the last decade Lydia and I have been farming in Western Manitoba where we raise our livestock on pasture using adaptive multi species grazing.
I am interested in animal nutrition and how that plays into regenerative & ecologically sound grazing and livestock management practices.  I am interested in how habitat conservation fits into perennial agricultural systems. I love what I do.
Lydia Carpenter
I grew up in Winnipeg and lived there until my mid 20's before moving to Southwest MB. Wian and I met at a BBQ in Winnipeg. A few months later he asked me if I wanted to try building a farm with him. His ambition was a curiosity and I was sure enough we could make a go of it, or at least learn something. When we started our farm business I was working on my Master's Degree in Natural Resources Management at the University of Manitoba.  Broadly my research focus was on gender dynamics in rural livelihoods. The experience I gained during that time was transformative and taught me a lot about how we might make farms and food production work. Building our farm business always felt like a challenge and an adventure.
My studies and work in farming have taken me across Canada to Mexico, Brazil and Morocco.  These years have given me an increased understanding and appreciation for agrarian livelihoods and all scales and sizes of agriculture. Through my learning and farming experience I have come to realize that there are systems of agriculture and food production that can provide a viable livelihood for first generation folks like us.
I am interested in whole farm systems and soil health, farm transition strategies, how to create community in rural Canada and how settler history has impacted the way agriculture in Canada works today. Along with managing our farm and direct market business I have trained in mediation and work with an established farm family transition coaching practice. I am interested in farm policy, farm transition, and business planning.
In our aspiration to farm as part of our livelihood we have received tremendous support from family and friends. We are privileged to have had the ongoing support of many local farmers and community members. We are happy to share our story and our learning. If you are interested in hearing about how we started farming please contact us.