Check out some of our favourite recipes below.  If you have one of your own please share it with us!
Chicken - Easy Roast Chicken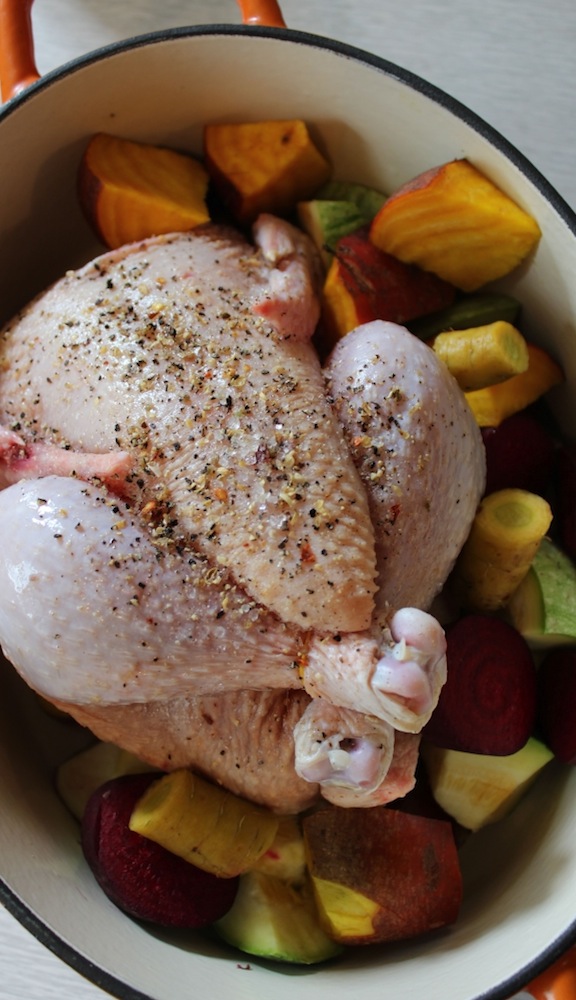 1 4-5 lb pasture raised chicken
2 tablespoons unrefined extra virgin olive oil
1 tablespoon coarse salt
ground pepper (as much or as little as you would like….we love pepper)
1/2 cup chicken broth or white wine
Instructions
Rinse the chicken and pat it dry. Drizzle olive oil over the chicken and sprinkle the bird generously with coarse salt and pepper. Place the chicken into a clay baker or baking dish, adding 1/2 cup stock or white wine to the bottom of the pan.
Turn oven to 275 degrees Fahrenheit and roast the chicken, covered, for about three hours. Increase the heat to 375 degrees Fahrenheit and continue roasting for about thirty to forty-five minutes. Remove from the oven and allow the bird to rest five to ten minutes before carving and serving.
**Save the chicken's frame to make roast chicken stock.
Chicken -Chicken Pot Pie with Herbed Crust
Source: Grassfed Gourmet Cookbook Shannon Haeys
I love this recipe. The first time I used this recipe I decided to bake the filling in a casserole dish (no crust) and serve with fresh cheese biscuits. It was a bit of a time saver and very delicious.
For the pie crust:
1.5 cups all-purpose flour
3/4 teaspoon salt
1/4 teaspoon freshly ground pepper
1 teaspoon dried thyme
1/2 teaspoon oregano
8 tablespoons butter or lard
6 to 8 tablespoons ice water
Combine the flour, salt, pepper, and dried herbs in a medium bowl. Use a pastry blender or fork to cut the butter or lard into the flour mixture until it is crumbly. Add the ice water gradually, mixing quickly with a fork until the dough it just moist enough to hold together. Be careful not to add too much water. You may not need the full 6 tablespoons. Shape the dough into a ball, then place on a floured surface and roll out to a rectangle at least 9X13 inches.
For the filling (mmm…):
6 tablespoons unsalted butter
3 small stalks celery, coarsely chopped
3 carrots, finely chopped
1 large onion, sliced into thin wedges
1/2 teaspoon coarse salt
1/4 teaspoon freshly ground black pepper
3/4 cup fresh or thawed whole corn kernels
1/2 cup fresh or frozen peas
3 cups cooked chicken or turkey, shredded
1/2 cup all-purpose flour
2 cups chicken broth
1 cup whole milk
1/2 cup half-and-half
1 teaspoon dried thyme, or 1 tablespoon fresh
2 tablespoons dry sherry
Preheat oven to 400F.
Melt the 2 tablespoons of butter in a large saucepan, then saute celery, carrots and onions over medium-high heat until they are crisp-tender, approximately 4 to 5 minutes. Remove to a large bowl, and keep warm. Add the salt, pepper, corn, peas, and shredded chicken or turkey to the vegetables, and stir gently until well combined.
Melt the remaining 4 tablespoons of butter in a saucepan. Turn off the head, add the flour, and stir quickly. The mixture will be pasty. Over medium heat, stir in the broth, milk, half-and-half, and thyme. Bring the liquid to a boil, stirring occasionally; lower the heat and simmer, stirring often, until the sauce is thick and rich. Stir in the sherry.
Pour the sauce over the meat and vegetables, and mix gently. Season to taste with additional salt and pepper. Pour the entire contents of the bowl into a 13X9 inch baking pan, and top with the herbed pie crust. Fold down and crimp overlapping edges so that the crust fits inside the pan. Pierce the top several times with a sharp knife, and bake for 25 to 45 minutes, or until the top is golden brown and the filling is bubbling.
Lamb Chops - Broiled Lamb Chops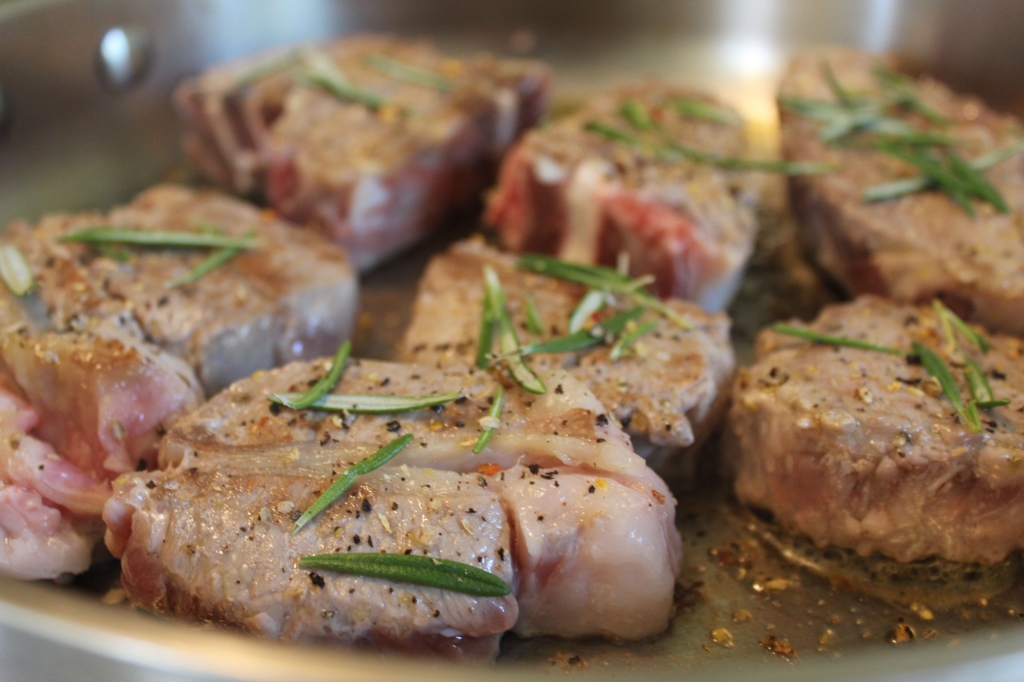 Source: Grassfed Gourmet Cookbook by Shannon Hayes
This recipe is simple and delicious!
This is one of our favorite ways to cook lamb chops. We regularly use coarse salt when cooking meat. It really does make a difference.
4 lambs chops (rib, loin or shoulder)
1 or 2 cloves of garlic cut in fine slivers
Olive oil
Coarse salt and freshly ground black pepper to taste
Rosemary (optional)
Pierce the lamb chops on both sides with a sharp paring knife, and insert 4 to 5 garlic slivers into each side of the chops. Brush the chops on both sides with olive oil, then turn them on their sides and brush each side as well (the fat on the chops will crisp up and will taste awesome)! Sprinkle all sides of each chop, including the fat, with salt pepper and rosemary.
Set the broiler on high, and broil for 5 minutes on each side for medium-rare chops.
Lamb - Roast Leg of Lamb
Source: Grassfed Gourmet Cookbook by Shannon Hayes
If you are wondering what to do with that leg of lamb feel free to try this wonderful Rosemary, Thyme, and Mustard Paste
Rosemary, Thyme, and Mustard Paste:
2 cloves of garlic, minced
1 tablespoon coarse salt
2 tablespoons freshly ground black pepper
1 tablespoon dried rosemary, crumbled
2 teaspoons dried thyme
½ teaspoon dried mustard
6 tablespoons olive oil
Rub the Rosemary, Thyme and Mustard Paste all over the leg, and rest the lamb at room temperature for 1 to 2 hours.
Preheat oven to 500F.
Place the leg of lamb in a large roasting pan, set it in the oven, and immediately lower the heat to 250F; continue roasting until a thermometer reads 120F for a rare roast, 130F for a medium roast, or 140 for well-done. Cooking times will vary based on the size of the leg and desired doneness, but allow at least 2.5 hours at 250F for a medium rare 5.5 lb roast.
Remove the lamb from the oven, cover loosely with foil, and rest for a minimum of 15 minutes before serving. The lamb will continue to cook during this time, and the temperature will go up another 5-10F
Pork - Honey-Ginger Brined Pork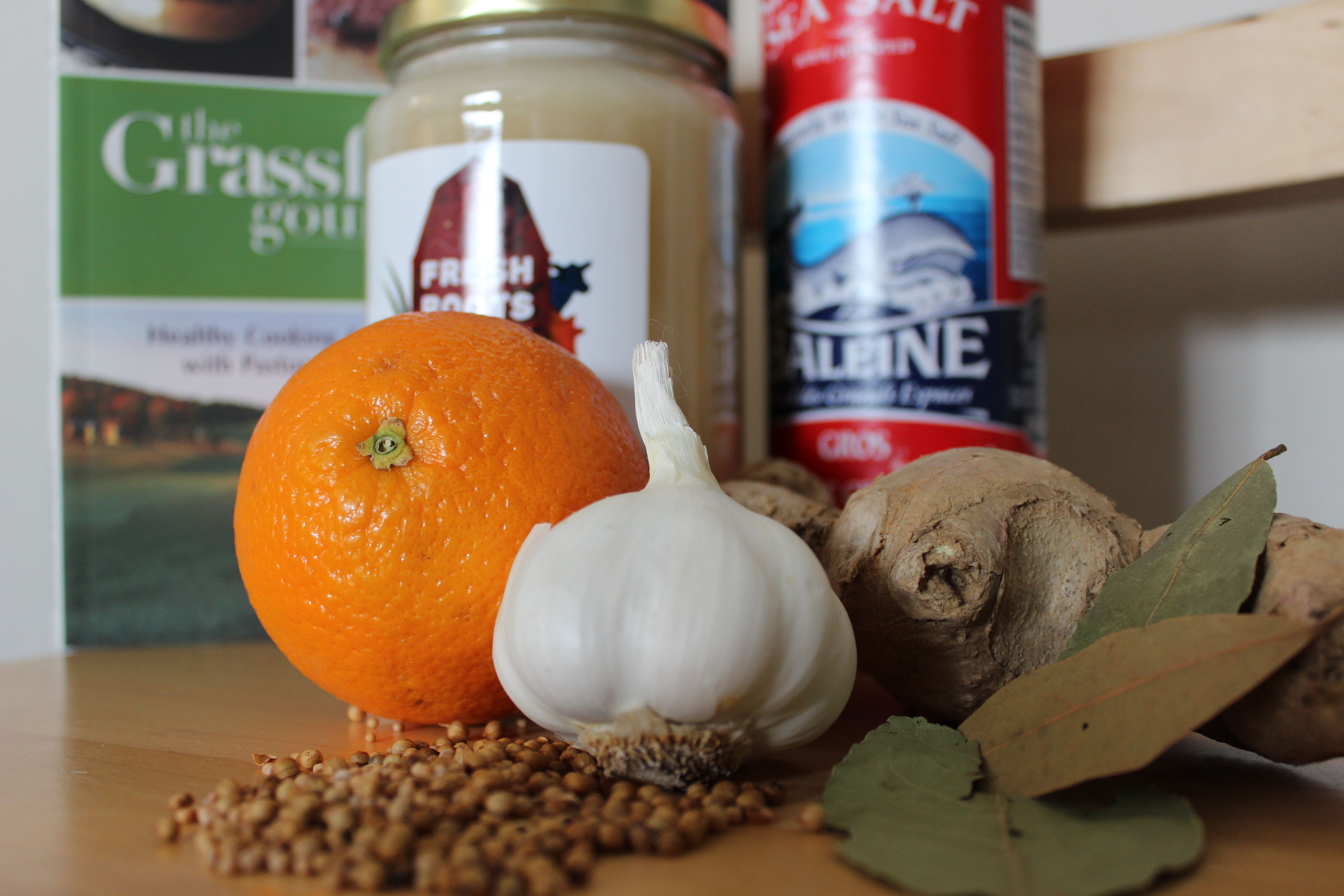 Source: Grassfed Gourmet Coobook by Shannon Hayes
We have used this brine for both pork roasts and chicken!
The following cooking intruction are for pork but if you would like to do this with chicken simply soak in the brine for 24-48 hours and then follow the Easy Roast Chicken recipe above.
8 cups of water
1/2 cup coarse salt
1/2 cup honey (check out Fresh Roots Farm!)
3 slices of fresh ginger
2 large cloves of garlic
zest of 1-2 oranges
1 tablespoon coriander seed
1 tablespoon freshly ground black pepper
1 tablespoon mustard seed
1 bay leaf
2 stalks lemon grass (optional)
1 4-6/lb pork roast (loin, shoulder or ham)!
Stir the salt and honey into 8 cups of hot/boiling water. Make sure your container is large enough to hold your submerged roast. Add the remaining ingredients except for roast. Let cool to room temperature. Submerge roast. Cover and refrigerate. Let sit for 24 hrs or 2-7 days for more flavour! You can place the roast in the brine frozen or thawed.
Preheat oven to 400F.
Remove the meat from the brine and wipe dry. Roast for 15 minutes, then lower the temperature to 300F. Roast until the internal temperature of the meat is 145F to 155F. Remove the roast from the oven, and tent is loosely with foil. Allow the meat to rest for 10 minutes before serving. The internal temperature should rise another 5-10F.
The meat will be very tender, juicy and flavourful. You could make gravy out of the pan scrapings. If you are preparing a bone-in roast save the bones for stock!
Pork - Brandied Pork Shoulder/Blade Chops with Apricots and Prunes (Slow-Cooker)
Enough can not be said for the wonderful taste of dried fruit with pork! This simple Slow-Cooker recipe is great!
4 pork shoulder chops
*Mustard Sage Rub
1 onion, cut into wedges
1 leek, finely sliced, white part only (optional)
3 to 4 carrots, finely chopped
1/2 cup pitted prunes
1/2 cup dried apricots
1/4 cup sherry
1 cup of beef or chicken stock
1/4 cup brandy
2 bay leaves
* Mustard Sage Rub:
1 tablespoon dried sage, crumbled
2 teaspoons dried thyme
1 tablespoon powdered mustard
1 tablespoon coarse salt
1.5 teaspoons freshly ground pepper
Coat the pork with the Mustard Sage Rub. Cover with plastic wrap and refrigerate overnight, or allow them to sit for 2 hours at room temperature.
Place the onion, leek and carrots in the bottom of a large slow-cooker. Set the shoulder (aka blade) chops on top, then cover with the prunes and apricots. Pour in the sherry, stock and brandy; add the bay leaves. Cook on low for 6-8 hour, until the meat falls from the bone.
Beef - Best-Ever Beef Burger
1.5 lbs ground beef
1 egg, lightly beaten
2 teaspoons oyster sauce
2 teaspoons Worchestershire sauce
1 teaspoon dried, minced onion
1/2 teaspoon garlic powder
1/2 teaspoon salt
1/4 teaspoon freshly ground black pepper
1/4 cup fresh breadcrumbs
Place the ground beef in a mixing bowl. Whisk together the egg, oyster, Worchestershire sauce, minced onion, garlic powder, salt and pepper. Pour over the ground beef; add the bread crumbs. Using your hands, lightly mix all the ingredients togethers.
To create the perfect burger:
1. create a 6 ounce patty shaped into a 4.5 inch circle, 3/4 inch thick on the edges and 1/2 inch thick in the centre ( to do this simply create your pattie and then press it in the middle to create a depression..this helps it cook it more evenly)
2. If you are grilling your burger cook on a clean grill, uncovered over med. heat 3 minutes per side.
Note: Don't press on burgers with your spatula while cooking as this squeezes out the juices.